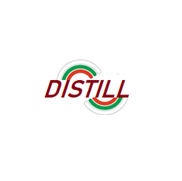 DISTILL: DISRUPTIVE TECHNOLOGIES IN INNOVATION LABS FOR DIGITAL CULTURAL HERITAGE

This project is financially supported by the Petar Beron programme of the Bulgarian National Science Fund in 2021-2022.

DISTILL is an individual research project of Dr. Milena Dobreva.

The host institution is the Faculty of Mathematics and Informatics of the University of Sofia St Kliment Ohridski. DISTILL addresses the challenge of exploring the changing landscape of innovation diffusion in digital cultural heritage focusing on three major factors for change: the large scale digital collections (growing towards big data) and the challenges they bring to the users interested to use and reuse this digital content; the emerging services aimed at helping users (innovation labs), and the new thinking about the generation of value with the participation of multiple contributors where the contributors have little or no compensation (heteromation).

You can follow the latest developments of the project on https://distill.page/. You can also check the video Dig into historical Bulgarian Newspapers! It explores the collaboration of academia and libraries in providing new search services and was created for the Europeana research community video series (https://distill.page/2021/11/05/dig-into-historical-bulgarian-newspapers/).

DISTILL e проект на тема "Пробивни технологии в лабораториите за иновации за дигитално културно наследство".
Институцията домакин е Факултет по математика и информатика на СУ "Св. Климент Охридски".
DISTILL е индивидуален научно-изследователски проект на д-р Милена Добрева.
DISTILL се справя с предизвикателството да изследва променящата се среда на разпространение на иновации в дигиталното културно наследство, като се фокусира върху три основни фактора за промяна: широкомащабните цифрови колекции (разрастващи се към големи масиви от данни) и предизвикателствата, които те носят за потребителите, които се интересуват да използват и повторно използват това цифрово съдържание; нововъзникващите услуги, насочени към подпомагане на потребителите (лаборатории за иновации), и новото мислене за генериране на стойност с участието на множество участници, където участниците имат малка или никаква компенсация (хетеромация).
Можете да следите последните разработки на проекта на https://distill.page/. Можете да разгледате и видеото "Разровете се в старите български вестници!" Проектът изследва сътрудничеството на академичните среди и библиотеките при предоставянето на нови услуги за търсене и е създаден за видеосерията на изследователската общност на Europeana (https://distill.page/2021/11/05/dig-into-historical-bulgarian-newspapers/)
Duration:
November, 2020

to

November, 2022